Sightseeing audio guided tour of Saint-Petersburg with VR glasses and trip to Tsarskoye Selo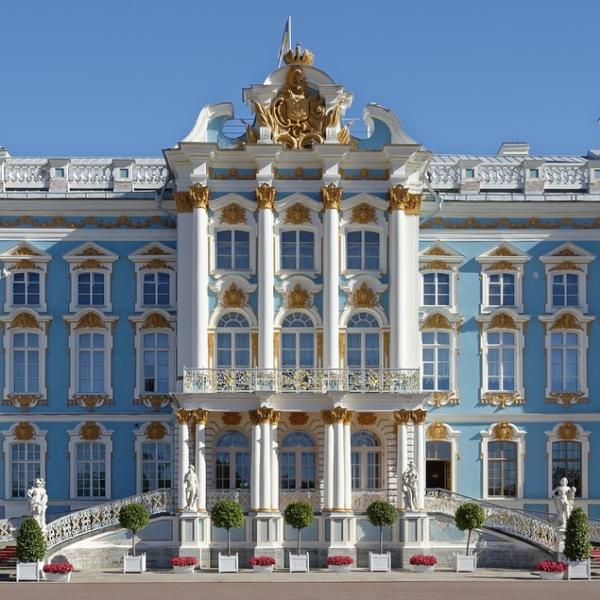 Date & Time: 09:30 (9:30 a.m.), Thursday, Sunday, starting 7th May, 2021
Duration: 11 hours
Departure point: Hotel "Oktyabrskaya" (hall), Ligovskiy prospekt, 10
Return details: Hotel "Oktyabrskaya"
Languages available: English, Russian, German, French, & Italian
Tour price per person: 85 € adults (15+ years) / 47 € children (0-14 years)
Saint-Petersburg sightseeing tour and Virtual Reality experience is an audio-guided bus tour through the city's historical center is a perfect way to begin your acquaintance with Russian Venice of the North. A comfortable bus will take you to city's main attractions and by using VR glasses you will also be able to see St-Petersburg as it was meant to be by Peter the Great more than 300 years ago. This unconventional excursion uses VR (virtual reality) glasses which allow you to experience the bell tower of Smolny Convent and Saint Isaac's cathedral's third building at arm's length. Peek inside the Hermitage and Savior-on-the-Blood; enjoy the view of Petersburg in the times of Peter the Great. Find yourself in another time and place, the parallel historical world of Saint-Petersburg. The stories are captivating as well. Choose what to believe – an official version of the events, or legends and myth, born at the same time as city itself. Pleasant sound of speaker's voice in your headphones will immerse you in an atmosphere of historic events.
After Catherine's palace became a favorite summer Imperial residence, large French-styled gardens were designed around the complex that is now known as Catherine Park. Further changes to the palace were also made by empresses Elizabeth and Catherine the Great. A lover of ancient art, Catherine commissioned Scottish architect Charles Cameron for the renovation of interiors in neoclassical style, as well as the construction of bathrooms and royal living quarters. Almost completely destroyed during the Second World War, the palace was carefully restored and stands today as a monument to the wealth and glory of the Russian Empire and its female rulers.
Sightseeing stops: the Lyceum Garden, the parade-ground in front of the Catherine Palace, alleys in the Catherine Park. 
Highlights:
  Nevsky prospect

  St. Isaac's, Senate and Palace squares

  Peter and Paul fortress

  the Hermitage

  the Summer Garden

  Catherine palace

  Catherine Park

  Theodore Sovereign's Cathedral