Audio guided tour of Peterhof's Lower Park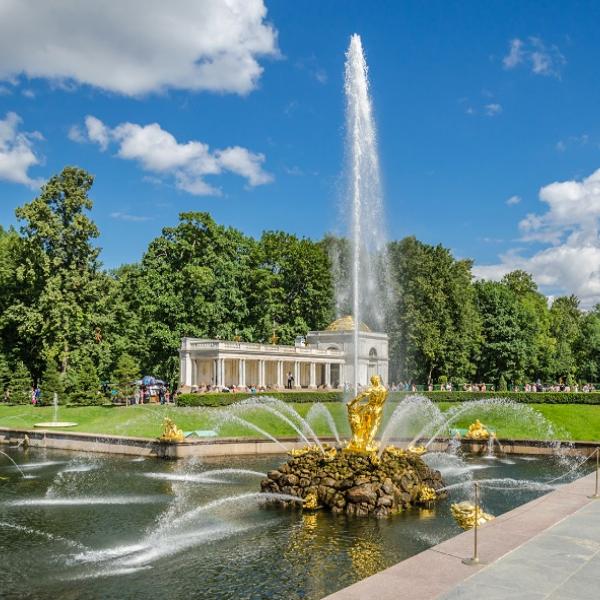 Date & Time: 09:00 (9:00 а.m.), Wednesday, starting 6th May, 2021
Duration: 7 hours
Departure point: Hotel "Oktyabrskaya" (hall), 10 Ligovskiy prospekt
Return details: Hotel "Oktyabrskaya"
Languages available: English, Russian, German, French, Italian & Spanish
Tour price per person: 44 € adults (15+ years) / 37 € children (0-14 years)
Seasonal novelty – an audio-guided tour to Peterhof, the very first Imperial residence, founded three hundred years ago. Embark on a trip to the southern shore of the Gulf of Finland via the Old Peterhof Road on a comfortable bus and make use of an audio headset to learn more about the residence and its history. Just an hour later and you've reached one of the most beautiful places in Europe – the Lower Park. Find out how "the Russian Versailles" was conceived by Peter, how the intricate system of fountains and cascades was created and why there are so many palaces and mansions hidden in the trees.
The Lower Park is 2,5 kilometers long. Its spectacular park ensemble has developed over the course of almost 200 years. Looking at this riot of green colors, it is hard to believe that the whole park is completely man-made. Fountains and cascades, small pavilions and royal palaces were built along the shore, surrounded by shrubbery and trees trimmed like in XVIII-century France. The real pearl of Peterhof,  the Lower Park annually attracts millions of visitors from all over the world.
Sightseeing stops: Razvodnaya square, the Lower Park, the Grand Palace, the Monplaisire garden, parade grounds in front of the palace, "Samson" fountain.
Highlights:
  the Grand Peterhof palace

  the Grand Cascade

  the Sea canal

   the Glasshouse

  Roman fountains

  the Monplaisire palace

  "Adam and Eve" fountains