Audio guided tour of the Fabergé museum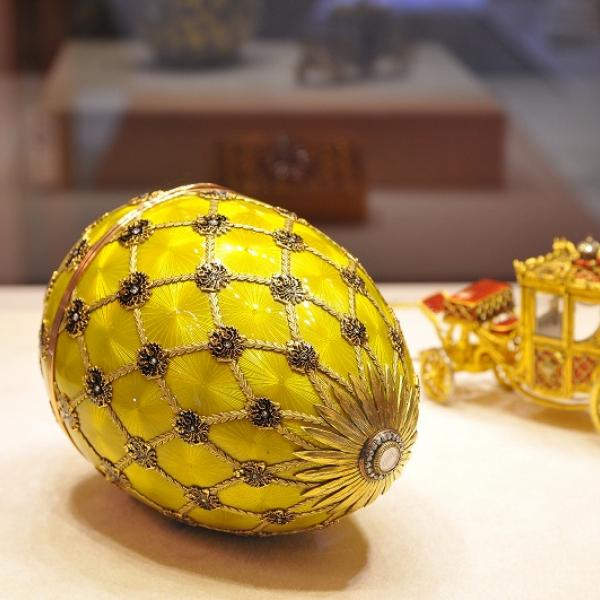 Date & Time: 14:15 (2:15 p.m.), Monday, starting 4th May, 2021
Duration: 2 hours
Departure point: Hotel "Oktyabrskaya" (hall), 10 Ligovskiy prospekt
Return details: the Fabergé museum, 21 Fontanka River Embankment
Languages available: English, Russian, German, French, Italian & Spanish
Tour price per person: 24 € adults (15+ years) / 18 € children (0-14 years)
Saint-Petersburg was the capital of the Russian Empire for more than 200 years. So it is not surprising that the best and the brightest artisans – sculptors, painters, musicians and… jewelers lived and worked here.
We invite you to visit the literally "sparkling" Fabergé museum, so you can see firsthand masterpieces created by the best pre-revolutionary professional jewelers. You'll get to see not only the works Peter Carl Fabergé himself, but also paintings by famous Russian painters – Brullov, Aivazovsky, Makovsky, Polenov and others.
But the crown jewel of the exhibition is the collection of 9 Imperial Easter eggs that found their way home after traveling the world for many years. On the way to the museum a short audio excursion will introduce you to the history of jewelcrafting in Russia. You will also hear the story of the Fabergé dynasty, their rise to wealth and prominence and eventual downfall after the collapse of the Empire.
Sightseeing stop: Fontanka river embankment
Highlights:
 
Vosstaniya square
Nevsky prospect
the Actor's House
Beloselsky-Belozersky Palace
Anichkov palace