Audio guided city tour with VR glasses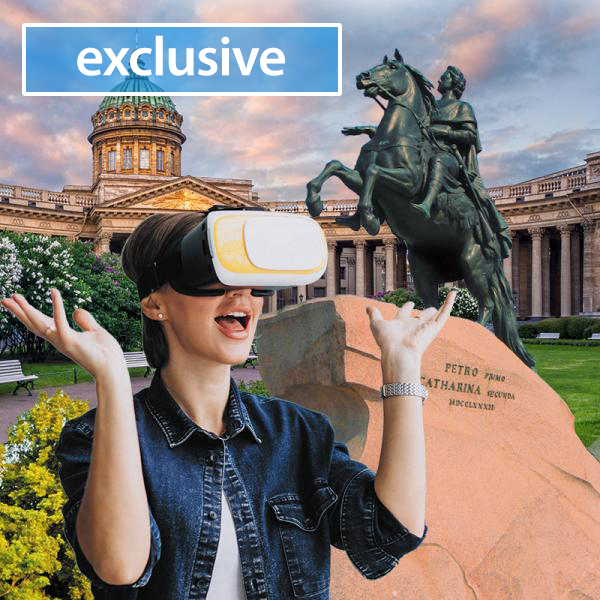 Date & Time: 09:30 (9:30 а.m.), Monday, Tuesday, Thursday, Friday, Sunday, starting 4th May, 2021
Duration: 3,5 hours
Departure point: Hotel "Oktyabrskaya" (hall), 10 Ligovskiy prospekt
Return details: Hotel "Oktyabrskaya"
Languages available: English, Russian, German, French, Italian & Spanish
Tour price per person: 20 € adults (15+ years) / 17 € children (0-14 years)
Join us on a spectacular bus tour of Saint-Petersburg. Over 3,5 hours you'll see city's most famous attractions, and there's plenty of them in Russia' Northern capital. Unique approaches and the use of innovative technologies allow you to witness with your own eyes the city as it was meant to be by Peter the Great 300 years ago, and how it has been changing over time. This unconventional excursion uses VR (virtual reality) glasses which allow you to experience the bell tower of Smolny Convent and Saint Isaac's cathedral's third building at arm's length. Peek inside the Hermitage and Savior-on-the-Blood; enjoy the view of Petersburg in the times of Peter the Great. Find yourself in another time and place, the parallel historical world of Saint-Petersburg.
The stories will captivate you as well. Choose what to believe – an official version of the events, or legends and myth, born at the same time as city itself. Pleasant sound of speaker's voice in your headphones will immerse you in an atmosphere of historic events.
VR steadily makes its way into our life, more and more with each passing day. And progress in Saint-Petersburg always goes side-by-side with history, an inseparable part of everyday life. Guests never get bored during their visit to the Venice of the North. It is time to begin your exciting acquaintance with Saint-Petersburg!
Sightseeing stops: St. Isaac's square, Church of the Savior on Blood, Cruiser Aurora, Rastrelli square (choice depends on traffic intensity).
Highlights:
  Moskovsky railway station

  Nevsky prospect

  Kazan cathedral

   Stroganov palace

  Wolfe & Beranger confectionary